• THE CITROEN TRACTION, A LEGENDARY CAR •
Come closer if you dare!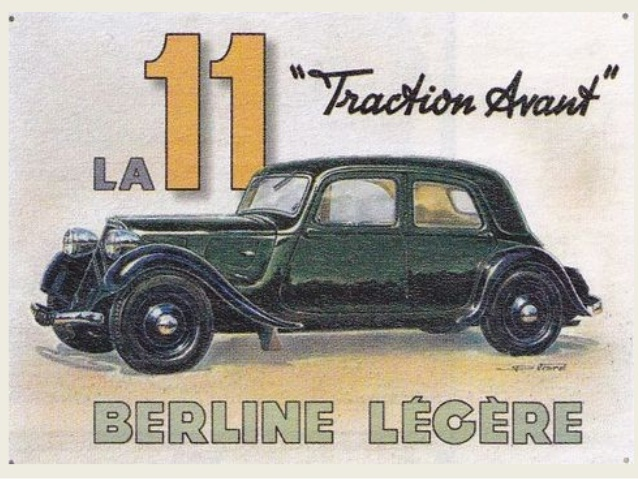 In 1934, the Citroen Traction 7HP would become a cult car as it revolutionized the automobile market on many fronts. It had an all-steel unitized body, aerodynamics putting to an end the old horse-drawn coaches, an overhead-valve engine, and of course, front-wheel drive system (traction avant). Later one, the following versions (11HP and 15HP) would therefore be just called: "The Traction Avant".
It is a model imagined by Flaminio Bertoni, famous Italian artist who is also responsible for two other famous Citroen cars: the DS19 and the 2CV. To design the Traction, he had sculpted miniature models out of clay – using technics he had learned while studying at the Fine Arts School of Varese.
Right after its launch, numerous breakdowns doomed the Traction to a commercial failure. André Citroën, the founder of the brand never recovered the depression it caused him and died in 1935 without knowing the end of the story.
A year later, once all the technical issues had been fixed, the success was immediate and overwhelming. By 1955, over 15 million cars had been sold and the Traction became known as the Queen of the Road.
We've seen it – whether for real or on a screen. It was used in the WWII by both the Germans and the Resistance, in the 1950s by the Marseille mob (the "Gang des Tractions") and by the French police for parade or high-speed chase.
Famous actors like Jean Gabin, Lino Ventura, Harrison Ford or Sean Connery, have driven it in the films. Its elegant contour is known today by all throughout Europe.
---
DRIVING EXPERIENCE:
It is clearly a different kind of driving. The Traction can easily speed up to 50 mph – would it be wise though, given her age…? She drinks like a sailor. She thrums and purrs. She builds up the driver's muscle at every turn. As she cruises along the country roads, the other drivers, the passer-byes, and even the cows, can't help but smile.